STOP:
This is a default guidelines article for Age of Empires II tournaments on Mogul.

Your tournament may have different settings and requirements. Please review the rules for your tournament before using the below instructions or settings in this article.

These settings ARE applicable to the Age of Empires II Asia Cup.
Lobby Creation:
In game select the 'Multiplayer' option on the main menu to go to the lobby browser.
Press 'Create Lobby' at the bottom of the lobby browser.
The player on the left of the Mogul match lobby is responsible for creating the game lobby.
LOBBY SETTINGS

*Lobby Name:
Mogul - [Match ID]
Hide Civilizations:
Yes
Visibility:
Public
Spectator Delay:
10 Minutes
Players:
2
*Server:
[Server Location]
Set Password:
MogulAOE
Data Mod:
Definitive Set
Allow Spectators:
Yes
*LOBBY NAME [MATCH ID] - The Match ID will be visible in two locations.

    Match Page URL: 
    

    Match Page Details:
    
*Server [Server Location] - Server selection process will differ based on best of series.
    BO1 - The defender/player on the right side of the Mogul match lobby will pick. 
    Bo3 - Map 1: defender/player on the right side of the Mogul match lobby will pick.
          Map 2: attacker/player on the left side of the Mogul match lobby will pick.
          Map 3: southeastasia
Join Lobby / Invite Opponent:

At the top right corner of the game lobby select 'Copy' next to the Game ID.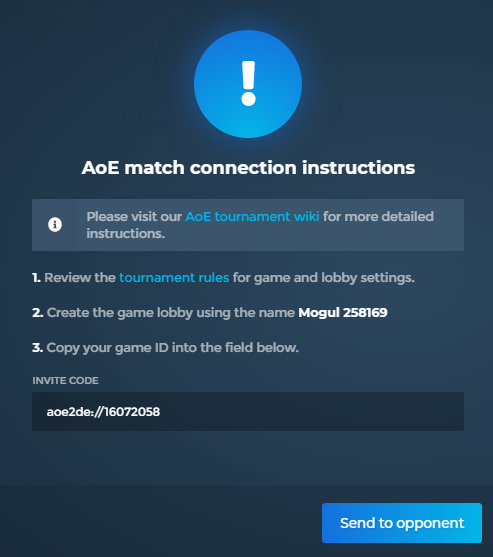 Paste game ID into the setup modal on Mogul.
It should look like this, aoe2de://16072058 where 16072058 is the Game ID.
Select 'Send to opponent' so that your opponent receives the match connection instructions.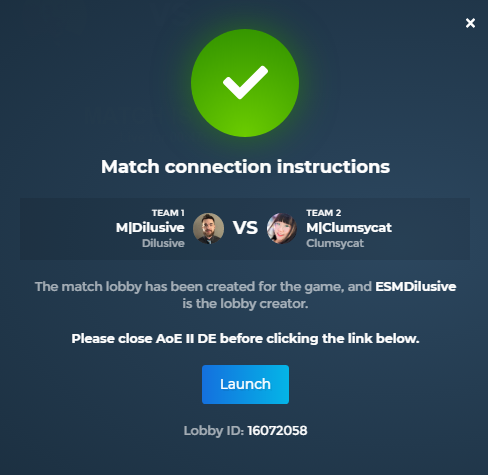 Once a Game ID has been set, your opponent will see the necessary information to find and join the game lobby.

Selecting 'Launch' will start AOE II DE and place you into the correct game lobby. Steam must be running for this to work.

You may also search the Game ID in the multiplayer lobby browser within game.
If your opponent is already a friend on Steam, you may simply invite them to your lobby through Steam invite.
It is imperative that you set your team number in game as prescribed in the match connection instructions from Mogul.
Game Lobby Settings:
GAME SETTINGS
Game Mode:
Random Map
Game Speed:
Normal
Map Style:
Standard
Reveal Map:
Normal
Location:
*Veto
Starting Age:
Standard (Dark)
Map Size:
Tiny (2 Player)
Ending Age:
Standard (Imperial)
AI Difficulty:
Standard
Treaty Length:
None
Resources:
Standard
Victory:
Conquest
Population:
200
TEAM SETTINGS
Lock Teams:
Yes
Team Positions:
No
Team Together:
Yes
Shared Exploration:
No
ADVANCED SETTINGS
Lock Speed:
Yes
Full Tech Tree:
No
Allow Cheats:
No
Record Game:
Yes
Turbo Mode:
No
*VETO - Before each match starts players will have the opportunity to pick or ban maps. 
    Bo1 - Each player will ban 2 maps (4 total map bans) from a pool of 9. 
          The map to play will be randomized from the remaining pool of 5. 
    Bo3 - Each player will take turns banning 1 map, picking 1 map, then banning 1 map. 
          From a pool of 9 maps that's 4 maps banned and 2 maps picked. 
          The third map will be randomized from the remaining pool of 3.
Score Submission
Players are not required to submit their scores. Mogul's AOE II DE integration will ensure that your score for each match is updated automatically.
Players must capture screenshots of the match results should a dispute arise with automated score reporting. In extreme cases, the game replay will be requested and must be made available to tournament admins for review.
Please review this help center article for more detail on score and screenshot submission.